The Community Coffee plantations are located in the mountains of the Sierra Nevada de Santa Marta, the highest coastal area in the world. This unique biodiversity gives our coffee its characteristic flavour.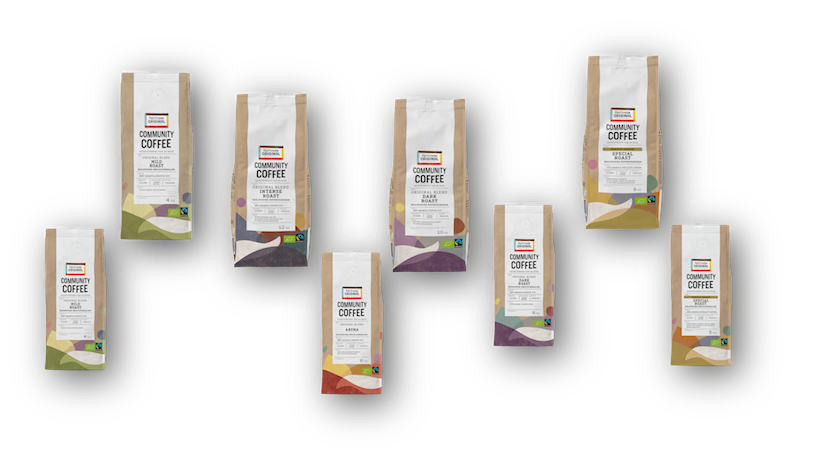 Community Coffee is a new project in the Fairtrade Original coffee journey. To make the coffee chain as short as possible, our buyer Mark purchases the coffee beans directly from the Fairtrade and organic coffee cooperative Red Ecolsierra in Colombia.
The coffee plants grow in the shade of banana trees. In the l
ower areas, the coffee plans grow much closer together than on top of the mountains. The coffee berries are harvested with great attention to detail: in a thorough selection process only mature, deep-red berries are picked by the farmers. All of these elements add unique qualities to our Community Coffee.
Our Community Coffee range
The Fairtrade organic Community C offee range consists of several blends and varieties. Our coffee is available in drip grind or whole espresso bean varieties with flavour profiles ranging from a light roast with a mild taste to a strong dark roast for a powerful pick-me-up. In addition to blends, with Community Coffee we also introduce single origin coffee. These coffees exclusively contain Red Ecolsierra beans. The coffee is submitted to a special tasting, or cupping, in which quality and flavour are scored on 80 different aspects. The origin of the beans combined with the cupping results qualifies this coffee as
specialty coffee
. Our single origin coffee is available in drip grind and whole bean varieties.
Additional information
You find our Community Coffee in stores and supermarkets in the Netherlands, Germany and Belgium. Do you like additional information or are you interested to stock our Community Coffee? 
Please get in touch with us
.